About Our Practice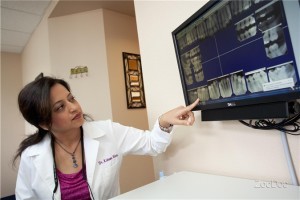 Looking for exceptional dental care for you and your family? Look no further than Dr. Kheny's dental practice, which serves patients in Pleasanton, Dublin, Livermore, San Ramon, and surrounding areas. Our comprehensive range of dental services, including general family dentistry, cosmetic dentistry, and orthodontic treatments, are designed to meet the unique needs of each patient.
At our Pleasanton-based practice, we are dedicated to providing affordable and high-quality dental care with a gentle touch. Dr. Kheny practices "Conservative Dentistry," ensuring that you maintain healthy teeth and gums throughout your life, including during your senior years. You can trust us to deliver personalized care that prioritizes your comfort and satisfaction.
We understand that finding a dentist you can trust can be challenging, which is why we are committed to building lasting relationships with our patients. Our team is here to answer all your questions and concerns about your dental treatment plan, providing a stress-free experience that leaves you with a healthy, beautiful smile.
Experience the difference in our exceptional dental care. Join our dental family today and enjoy the benefits of personalized care, affordable prices, and a commitment to your satisfaction. Visit us in Pleasanton, CA, and see for yourself why we are the leading choice for families seeking the best dental care in the area.
Why Choose Us?
Conservative Dentistry
Quality Care
Treatment Clarity
State of the Art Practice
Low Dose Digital X-Rays
Quality Materials Used
Prompt & Friendly Service
Affordable Treatment
Most Insurances Accepted
Financing Available
Convenient Location
Your Local Pleasanton CA Dentist:
Throughout our website, you will find an abundance of information about our practice, services, and dentistry in general. Please explore and learn as much about dentistry and our services as you desire. We believe our patients should have as much information as possible in order to make important, informed decisions regarding their oral health and treatment options. Our patients are our most important asset, and we strive to develop long-lasting, trusting relationships with every patient. Your referrals to extended family and friends in Pleasanton area are welcome and appreciated.
Our Advantages
Experienced & Knowledgeable
Over 15 years of experience.
Honest & Trustworthy
Providing relaxing and sincere dental experiences.
Convenient Location & Hours
Centrally located with convenient office hours.
I always feel comfortable when visiting the office Plus, Dr Kheny is a perfectionist and always does an excellent job!
Just another delightful experience of attention and professionalism at its best!
I had an excellent experience at Dr. Kheny. Very professional and excellent quality work. More importantly she and her staff make every effort to make the process painless and comfortable. I had an extensive root canal and they could not have done a better job. I highly recommend her.
Dr. Kheny consistently provides not only professional dental care, but does so with a caring and sensitive demeanor. I drive over an hour couple times a year to her office and it is worth the time and effort! She also charges a very reasonable rate for all services.